James Webb Telescope Is Luciferian Idealism for "Ad Astra" Worship by NASA and Mind-Upload Minions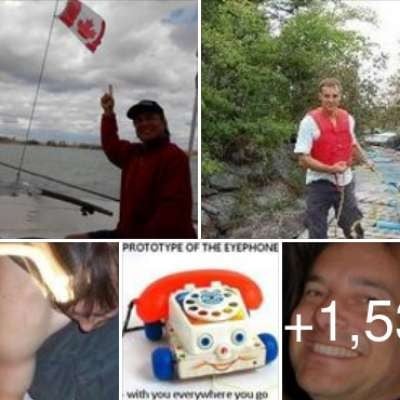 There are more than quadrillion planets alone in our galaxy. So, there is a high possibility that there might be a planet or a moon out there, that may be inhabitable. In simple words, there may be sensible aliens living in it. The hunt for the aliens is going on for a long time, but now one of the greatest and nearest earth-like planets has been discovered that may hold the key to all of our questions and the James Webb Telescope will answer them all
Credit : NASA - European Space Agency (ESA) - SpaceX - Wikipedia.
source: https://www.youtube.com/watch?v=f3Fj6lD4esI

As exciting as finding life in another planet through our advanced telescopes I think it is equally exciting if not terrifying to think that life wont find us first…if it didn't already.
180
TurnedLeftAtTheRockyMountains
TurnedLeftAtTheRockyMountains
2 weeks ago
Odds are, it did. Prolly not just one, lol.
8
DuncanAndFriends Pranks
DuncanAndFriends Pranks
2 weeks ago (edited)
Forms of life isn't terrifying, intelligent forms of life is.
10
WowyZowy
WowyZowy
2 weeks ago
@DuncanAndFriends Pranks fr. Usually people think about aliens as in more human like creatures but life doesn't always mean that. There is always a chance for "animals".
4
Tony D.
Tony D.
2 weeks ago
Any alien capable of reaching us would have been studying our radio and TV signals for decades. An intelligent species would probably decide that the trip wasn't worth it.
18
Gsentinel
Gsentinel
2 weeks ago
I'm sure it already has.
2
Keith Metcalf
Keith Metcalf
2 weeks ago (edited)
I'm convinced we are the product of said alien life....
6
Thedrunkenswed 1337
Thedrunkenswed 1337
2 weeks ago
It already did
Eric Madden
Eric Madden
2 weeks ago
@Tony D. assuming our signals have even had enough time to reach them. Humans haven't been "on the radar" that long in cosmic scale of things
Yatokun
Yatokun
2 weeks ago
@Tony D. After witnessing war and comedy in our broadcast signals, if they were on the way, they likely turned around and went back home
3
Observer
Observer
2 weeks ago
@DuncanAndFriends Pranks excactly!
Observer
Observer
2 weeks ago
@Tony D. it depends what means worth it to them and second how hard is for them for such a trip...even what spacetravel means to them.mabe in a million years from now we humans discover new laws of nature that enables you to travel vast distances in a matter of seconds,who knows,every scenario is possible in such a crazy to think universe...
Tony D.
Tony D.
2 weeks ago
​ @observer I was joking. Seriously, I think aliens would definitely come here, for the same reason that humans visit zoos.
1
Stephen Richardson
Stephen Richardson
2 weeks ago
So, if we look thru a telescope or JW, AND we're seeing the past, would it be the same to ETs. Unless they can travel thru space, thru worm hole or their lifespan could be longer. IDK, I could go on and on. Looking thru we see the past, we can't see the present so how do we get over that hurdle?
Glenn Juarez
Glenn Juarez
2 weeks ago
Of course aliens have come here before. How do you think we humans got here? Through Evaluation, Adam & Eve?
Nino Russo
Nino Russo
2 weeks ago
Why couldn't they just say hi to us if they did find us first
Peter Dante
Peter Dante
2 weeks ago
Tony D. They would probably see that we have already built and established all over the place it would just be a matter of coming and taking over
Javon Alston
Javon Alston
2 weeks ago
the u.s finally accepting u.f.o should tell you we already been found we're probably just to insignificant for them 2 care
Truman Thomas
Truman Thomas
2 weeks ago
I don't think man originated on earth the years in certain writings dont add up. But if this planet year is 8 to one of our years it's a possible place of human origin.
Truman Thomas
Truman Thomas
2 weeks ago
@DuncanAndFriends Pranks only if they are as rotten and self serving as our politicians.
meme Nationwide
meme Nationwide
2 weeks ago (edited)
@Yatokun what if this is their home as well ?
1
Yatokun
Yatokun
2 weeks ago
@meme Nationwide Then in that case, they probably decided to find a new one
E Phan
E Phan
13 days ago
Doubt it. The Universe is so vast even advanced civilizations could never reach us.
Steve O
Steve O
13 days ago
@Yatokun They turned back because the don't want to be slapped by Will Smith !!!
Steve O
Steve O
13 days ago
@E Phan And cave men once said man could never fly like a bird!
Chandler Devries
Chandler Devries
13 days ago
I don't think we are trying to find life living in another planet. We are trying to find life living on another planet.
Hank the Cowdog
Hank the Cowdog
12 days ago
Uhm, how much more proof do you need?? An actual being from out there to shake your hand and Introduce itself?
Hank the Cowdog
Hank the Cowdog
12 days ago
@Glenn Juarez evaluate your post.
Chandler Devries
Chandler Devries
12 days ago
@Hank the Cowdog That would be nice. Yes, please make this happen to me.
The King
The King
11 days ago (edited)
@Tony D. Nah. They're already here. I'm one of the lucky few who was visited by multiple aircraft. Probably because of who I am. Either that or they were time travelers because they visited me like 2 years before I became famous in Disney. I was always wondering why me, but now it actually makes sense why I was that 'special'…Maybe my story becomes /extremely/ known in time and the future people wanted to visit me during my prime - to see the guy I was right before I became huge. That's the ONE thing that could actually explain it…you know? I was 19-20 years old at the time of their visit, and the thing that happened to me that landed this spot in Disney happened about 2 years after that. They might even still secretly watch me from time to time. Because it was a lot.

These UFO's people are seeing may not even be aliens. I legitimately think it's more likely they are just humans from the future that have figured out time travel.
Tony D.
Tony D.
11 days ago
@The King Okay. Like I said, they could come here for "the same reason that humans visit zoos."
5G Gaming Guru
5G Gaming Guru
6 days ago
@Keith Metcalf "heavenly father"?
Josh Traffanstedt
Josh Traffanstedt
5 days ago
So what if they did? They can't get to us, same as we can't get to them. The universe is too big and it takes too much time and energy to get to somewhere even as close as Proxima b. Einstein proved long ago that traveling at the speed of light is impossible for anything with mass. So unless they can fold two different points of the universe together and then travel that way almost instantly, they face the same problem with distance as we do.
Josh Traffanstedt
Josh Traffanstedt
5 days ago
@Eric Madden exactly. Thats what people fail to realize. We're new born babes in the grand scheme of things.
Josh Traffanstedt
Josh Traffanstedt
5 days ago
@Stephen Richardson yes it would be the same for them. If some alien species was looking at our planet from 600 light years away, they'd hear no radio broadcasts.. theyd be looking at earth in the latter part of Medieval Times.
Show more