Mischeif Machine SIG P365 Grip Module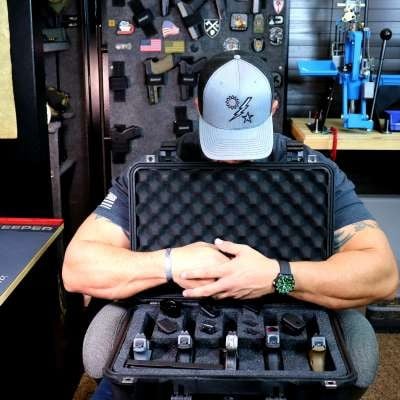 Grip modularity is one of the best parts of the most current SIG pistol design. And with the popularity of the P320, especially the military contracts as of late, the aftermarket has responded. Mischief Machine is another great option in a grip that changes the total feel of the pistil by adding an all metal grip module. This will add a slight bit of weight but the difference in feel is well worth the pickup in a few ounces. There is additional rail spaces for accessories. and this version has replaceable G10 side panels. It will take some getting used to when it comes to activating the mag release but the feel of it is quite nice compared to the factory polymer.

Build List And Links ► https://bit.ly/3PM3jbK

Patreon ►https://bit.ly/2JTBCBj
Shirts/Hats TriStar Trading ► https://bit.ly/35lI6TF
Blackout Coffee 10% off Code TC10 ► https://bit.ly/3cy5Vct

Email List Sign Up! https://bit.ly/3umhue8

~~~~My Amazon Top 50~~~~
► https://amzn.to/2WIw3da


~~~~~Favorite EDC Gear~~~~~

Kizer Sheep Dog Knife
https://amzn.to/3hpRMzP
Streamlight Micro Light
https://amzn.to/2SqiiNg
Wallet Popov Leather Coupon ►TCONS◄ 15% Off
https://bit.ly/2V66u2Z

Favorite Hearing Protection Axil In Ear
https://bit.ly/3qvk7Kq


~~~~Camera Gear I use~~~~

Canon R6 https://amzn.to/3ujq9MQ
Main Lens RF 24-105 F/4L https://amzn.to/2R8zSav
Canon RF 50mm https://amzn.to/2PTDxbx
Manfrotto Tripod https://amzn.to/3fERkO7


~~~For Mail Call~~~
Tactical Considerations
P.O. Box 1133
Queen Creek, AZ 85142



#tacticalconsiderations

All filming done in a safe manner on a bonafide public range under the supervision of licensed professionals featuring legal semi auto items only.

** Affiliate disclaimer:
We keep Tactical Considerations going in part with viewer support in the way of paid links/affiliate links. Some of the above links maybe affiliate links, which may generate me a sales commission. For example, Camera Gear I Use listed above is in association with the Amazon affiliate program and I'm an amazon associate.. "

These videos are for entertainment purposes only and free to watch. All actions performed in these videos are under the supervision of a trained/licensed professional. Tactical Considerations nor any of the companies are responsible for any injuries or damages caused to you or your firearm that may result from attempting to recreate the actions made is these videos. Do not try this at home.

Fair Use: In the rare instance I include someone else's footage it is covered in Fair Use for Documentary and Educational purposes with intention of driving commentary and allowing freedom of speech.
Show more