FM9 Foxtrot Mike 9mm PCC Enhanced Trilug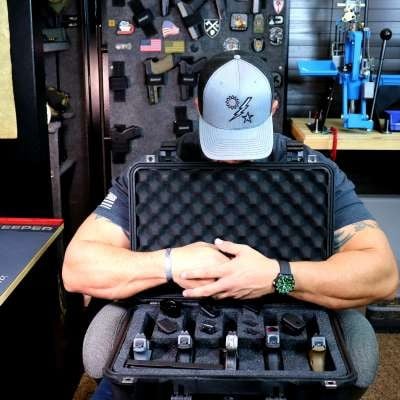 This FM-9 enhanced pistols from Foxtrot mike is their newest iteration of a PCC build with a Tri Lug for you to run all current suppressors with. This version is set up for Glock compatibility on magazines or clones of them. Its has a 7 inch barrel, M Lok Rail, integral trigger guard, ambi charging handle, ambi safety selector and a mission first tactical pistol grip. The brace options will be SBA-3 or other you choose to add. This ultra compact design allows for ease of carry or backpack style carry and it performed flawlessly on all types of ammunition that I put through it. The milspec trigger is well milspec and not going to blow your skirt up but that can be changed out. as fro the rest of the build the machine work is well done and the anodizing is consistent.

Build List And Links ► https://bit.ly/3yTb7S2

Patreon ►https://bit.ly/2JTBCBj
Shirts/Hats TriStar Trading ► https://bit.ly/35lI6TF
Blackout Coffee 10% off Code TC10 ► https://bit.ly/3cy5Vct

Email List Sign Up! https://bit.ly/3umhue8

FM15 Zhukov Side Folder https://youtu.be/TzKAy8BywHY

~~~~My Amazon Top 50~~~~
► https://amzn.to/2WIw3da


~~~~~Favorite EDC Gear~~~~~

Kizer Sheep Dog Knife
https://amzn.to/3hpRMzP
Streamlight Micro Light
https://amzn.to/2SqiiNg
Wallet Popov Leather Coupon ►TCONS◄ 15% Off
https://bit.ly/2V66u2Z

Favorite Hearing Protection Axil In Ear
https://bit.ly/3qvk7Kq


~~~~Camera Gear I use~~~~

Canon R6 https://amzn.to/3ujq9MQ
Main Lens RF 24-105 F/4L https://amzn.to/2R8zSav
Canon RF 50mm https://amzn.to/2PTDxbx
Manfrotto Tripod https://amzn.to/3fERkO7


~~~For Mail Call~~~
Tactical Considerations
P.O. Box 1133
Queen Creek, AZ 85142



#tacticalconsiderations

All filming done in a safe manner on a bonafide public range under the supervision of licensed professionals featuring legal semi auto items only.

** Affiliate disclaimer:
We keep Tactical Considerations going in part with viewer support in the way of paid links/affiliate links. Some of the above links maybe affiliate links, which may generate me a sales commission. For example, Camera Gear I Use listed above is in association with the Amazon affiliate program and I'm an amazon associate.. "

These videos are for entertainment purposes only and free to watch. All actions performed in these videos are under the supervision of a trained/licensed professional. Tactical Considerations nor any of the companies are responsible for any injuries or damages caused to you or your firearm that may result from attempting to recreate the actions made is these videos. Do not try this at home.

Fair Use: In the rare instance I include someone else's footage it is covered in Fair Use for Documentary and Educational purposes with intention of driving commentary and allowing freedom of speech.
Show more