Three Levels of Gov's (Medical-Mafia) Conduct Secret Human-Tests... Reveals Dr. Madej [very important vid]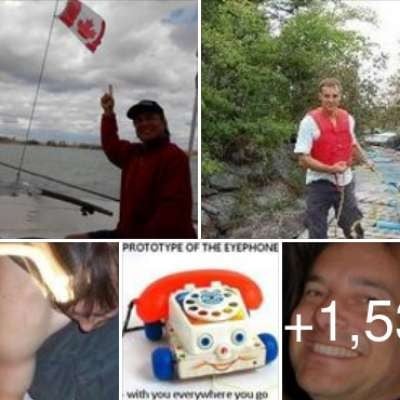 Published on 27 Jan 2021 / In
Health
Three Levels of Gov's (Medical-Mafia) Conduct Secret Human-Tests... Reveals Dr. Madej [very important vid]

3 Gov Levels of Human-Tests Fraud... Reveals Dr. Madej with Kaufman

Here is the trick... they are not "gov" they are actually Mystery School thUgs pretending to be "gov" Do you understand?

The trick even go deeper as the RCMP thUgs committed Fraud before me and laughed that I could not stop them as Freemasonic rulers of Canada. Yes, they even sign my name for me on their own documents. Total corruption, and I caught them committing their crimes.

If this does not open a skeptics eyes to the secret Medical-Mafia, nothing but their own death-bed after a vaccination will awaken him/her. Mycoplasma pneumoniae is not what was deadly, it is suspected that the wwCult's Medical-Mafia developed a nano-bot(before cell phones [in the 1980s]) that enters and hides itself inside red blood cells in order to manufacture a neural-toxin that could reduce the population of a targeted species. Obviously, to some skeptics, the Medical Mafia has been injecting these nanobots ever since tetanus vaccines surfaced

Vaccines are, apparently, the most successful method for the medical-mafia to conduct a population reduction campaign.
I assume the experiment upon the community that Dr. Madej studied here and documented was through some water supply. (If dogs were showing signs of the fever, too.)
Three levels of government told her to become a wicked doctor, but she refused although confused that she was face to face with the wwCult's Medical Mafia who likely developed the sickness in the first place.

This is in preparation for a complete attack(all branches of secret-societies at once in all areas of society(masons, eastern stars, mormons, JWs, Scientologists, Hyperians, Rosicrucians, Knights Templar, Knights Hospitalier, Teutonic or black Knights, on and on the secret-societies go) They are organized by the Mystery School Cult masterminds https://www.remnantradio.org/Archives/articles/William%20Cooper/Mystery%20Babylon/audio/mystery%20babylon%2019.mp3
Do you have a private water source well as a backup to defy thUgtopia rising?
Do you grow a garden and can your own preserves?

Any doctors who are not sworn to the Cult will become targets very quickly during the attack. The efforts of Dr. Madej to explain that Cholestyramine Powder can be used to chelate the nanobot's manufactured neural-toxin out of the blood through the liver and out the butt is very important of a resource to surviving that form of attack from the Cult's Medical Mafia.
Dr. Shoemaker Resources for cholestyramine powder or Questran: https://www.ei-resource.org/articles/chronic-fatigue-syndrome-articles/dr-shoemakers-neurotoxin-treatment-cholestyramine/

Madej gets spiritual: https://ugetube.com/watch/like....-carrie-madej-stand-

Be smart by realizing that you are the player and not the game-token in their rigged game of western-society. Lloyd Pye reveals just how rigged the game is here: https://ugetube.com/watch/lloy....d-pye-tackling-scien This Canadian explains the fake system of deception that the Freemasons forces into the unaware: https://ugetube.com/watch/cana....da-039-s-victor-beck

Here is another photo of the lovely-hearted doctor: https://i.imgur.com/J35taOK.png

You find yourself within a universe which is not quite what it seems.
Your physical senses are beautiful liars that convince you that you are within a single linear time-line, but this is a trick of physical reality. You are actually multidimensional with many, many probable selves. But your developing soul-fragment would become confused with an overload of data if your mind was given everything. So what the Creator-God has designed for you is a apparent single time-line of events.

Through your beliefs and desires, your Oversoul (which you are a fragment of) keeps your consciousness healthy and alive always (unless you suicide as an escape). Upon suicide, your multiverse collapses and you revert back to a time before... this is not advised since you are already immortal as a soul and developing souls require challenges. If you run from your challenges, then it is a type of failure. I have bee attacked with deadly-intent from the Sworn-thUgs for thousands of times in the last 15 years. I am totally strong and healthy because of my beliefs and desires and the same thing is within your power as well. I am specially me and you are specially you. You are driven to develop your concepts about reality and to seek truth. In a way, everyone is a truth-seeker... even murderous-thUgs desire the truth. But the thUgs have been tricked into selfrighteous-greed and unlovingness which I have trouble understanding. There must be a fix for such stupidity...
Show more