False Flag? Warning About Political Violence in Canada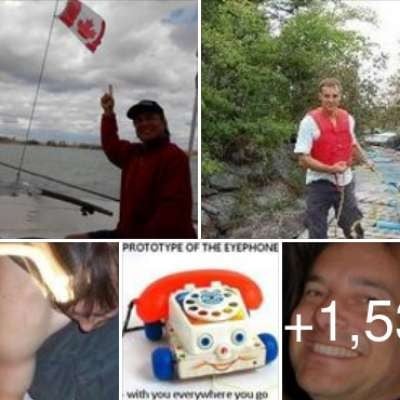 When I study this the logo or crest looks Freemasonic-Luciferian.
The guy on the left sounds like he is Freemasonic.

Here are some comment from the Youtube:
https://www.youtube.com/watch?v=LoI94ejdlAM
Youtube comments are blocked and shadow banned so they cannot be trusted:

235 Comments
Default profile photo
Add a comment...
METHOD TATTOO
METHOD TATTOO
9 months ago
How about you do an unedited podcast with Marcus and allow him to respond to your claims instead of doing the cowardly thing and making claims without opportunity for an open debate.
33
Reply
Violet D'Saint
Violet D'Saint
9 months ago
Exactly!
3
Reply
350 goldblock
350 goldblock
9 months ago
Could someone tell me where Marcus is advocating violence? I have seen and heard none. If our OWN tyrannical government can do psych ops, cisis operations, false use of emergencies act NO accountability for HIGH TREASON, suppression of "covid vaccination" efficiency and every side effect imaginable, acts of violence against Canadians, purposely crashing our economy, unwarranted raising of fuel prices, with ZERO accountability kindly tell us where this leaves us.

I have heard of only peacefully wanted cooperation.

WE HAVE THE RIGHT TO PEACEFULLY PROTECT OURSELVES.

PLEASE TELL ME iF PEACE, POLITICS, AND corruption is not dealt with by those in positions to do so, where does this leave us?

What is your take on the costly acquisitions of ineffective, harmful injections for the foreseeable future?

What is our way out when our government suppresses the truth, lies, steals, conflicts of intrest are not in check.

Marcus to my knowledge has only advocated for peaceful action against a corrupt government.

I have seen some of his speeches.

No violence

That being said, I will not be beaten down by any pos when peacefully protesting which will not save us.

What is your way out of this before it is too late?

Manitoba
7
Reply
Truth, Freedom and Justice
Truth, Freedom and Justice
8 months ago
@350 goldblock Should have posted that as an open comment, not as a reply. Good stuff
Reply
Gwen S
Gwen S
9 months ago
I have listened to many of Markus Ray's videos and he always stresses two things. 1. He is the spokesperson for a larger group. 2 They are a peaceful group. From the groups newsletter. "The plan is moving forward smoothly and we are working with the greatest Canadians I have ever met. My focus, as well as yours, I am sure, is to work hard to stop the injury and death of innocent men, women, and children. Our plan is to expose the truth and all those who are responsible in a peaceful manner..."
18
Reply
Just Sayin'
Just Sayin'
9 months ago
You guys need to show some actual footage of Marcus Ray call for violence. I have never heard him say anything but peaceful.
If you want to be believed than show the receipts!
19
Reply
Lea-Anne Wilke
Lea-Anne Wilke
9 months ago
Thank you so much. I would believe the possibility of both. I know people are angry for being divided by our PM and government and what their policies have done to their lives. I also know our PM would like nothing more than to villify the movement for freedom so that he can prove his point. The truckers and veterans did such a fantastic job of spreading their message with hope, peace, and love. I was and am so proud of them. I had lost hope for Canada but I have it again. However, our PM and certain elements would like nothing more than to prove their point considering their huge overreach and reaction to a peaceful crowd. Thanks for sending out this info.. so important for people to know and I am amazed by the leadership of the freedom organizations who maintain their peaceful stance despite all the obstacles and threats and divisiveness our PM throws our way. FREEDOM!
Show more